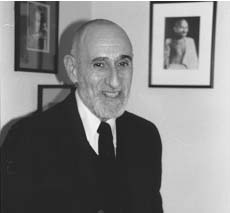 Ira Sandperl has touched the lives of thousands of people as a passionate teacher of active Gandhian nonviolence. As Ira notes, "Gandhi, the rat! He ruined my life!"
He and Joan Baez started the fabled Institute for the Study of Nonviolence in 1965. Through his long association with Joan, he was involved in many of the key movements of the 1960s and 70s — the Free Speech movement in Berkeley, the Civil Rights movement and the Vietnam War peace movement. Ira helped train Civil Rights workers in nonviolence and civil disobedience with Martin Luther King and marched along side King and others.
Ira is also known by many as a long-time employee of Kepler's Books, and a beloved teacher at Peninsula School in Menlo Park.  Ira taught meditation and Sunday school classes at the Palo Alto Friends Church, and lectured at Stanford and other universities.  Ira also lived in Northern Ireland and the Republic of Ireland during  the 1970s, teaching about nonviolence.  He is the author of the book A Little Kinder

---
Recent Articles and Books Mentioning Ira
Through Trying Times for Blacks, a Place of Peace
New York Times, April 4, 2008
Article about Martin Luther King and the Penn Center, including photo of Ira with King, Baez and Jesse Jackson at the Center.
What the Dormouse Said: How the 60s Counterculture Shaped the Personal Computer Industry
John Markoff, 2005
Ira's impact on the pioneer computer scientists around Stanford in the 1960s is cited several times.  That community is not one that we normally think of as influenced by Ira's message of Gandhian nonviolence.  It's a reminder of how important Ira has been in shaping the thinking of so many of us fortunate enough to know him.  His impact runs deep.  May we return the favor.
Bookstore Writes 'The End' to an Era
New York Times, Sept. 3, 2005
John Markoff New York Times Article about Kepler's Books, featuring an interview with Ira and his photo.  Ira tells the story of how Grateful Dead guitarist Jerry Garcia and friends would practice in the store in the early days.
A Little Kinder is currently out of print, but available used online:
http://www.abebooks.com/author/Ira-Sandperl/3482093
http://www.amazon.com/gp/offer-listing/0831400358/